InConnect by Apiworx provides Integration as a Service (IAAS) capabilities for Sage Intacct users focused on the specific needs of an eCommerce business. These integrations give Sage Intacct users full interoperability capabilities for a seamlessly integrated eCommerce operation.

InConnect acts as an extension to Sage Intacct via the Sage Intacct API. We provide order flow, customer updates, product date and inventory sync along with payment processing details from channels and eCommerce platforms back to Sage Intacct.

Our integrations have been developed in the real-world by working with dozens of Sage Intacct users. 

We currently support the following fulfillment platforms:

3PL Central
Generic 3PL framework (file exchange)
Amazon FBA
DSCO
Sanmar (3PL)

Need a different fulfillment platform? Contact us for special fulfillment platform needs.
Key Benefits:

3PL Central and Sage Intacct Integration
Keep your Sales synchronized to Sage Intacct.

Easily sync Products, User inventory levels, Shipment and Price back and forth between Sage Intacct  and 3PL Central.

Fully personalized mapping screen for Products & User in case the Product's/User's unique key is not maintained in both platforms.

Control & manage the sync of different data between 3PL Central & Sage Intacct.

Visual representation of your Order updates, Products and other sync details.

Amazon FBA and Sage Intacct Integration
Keeps your inbound shipments & order refunds synchronized.
Control the sync of discrepancies in inventory related to deemed, damaged, and returned data.
Fully personalized mapping screen for products, multiple SKUs of Amazon mapping to single Sage Intacct SKU supported along with one-to-one SKU mapping.
Visual representation of your inbound shipments, refund order, discrepancies in inventory, and other details, with complete control over managing and updating the sync settings anytime
Multiple Amazon Marketplace connections with Sage Intacct are available.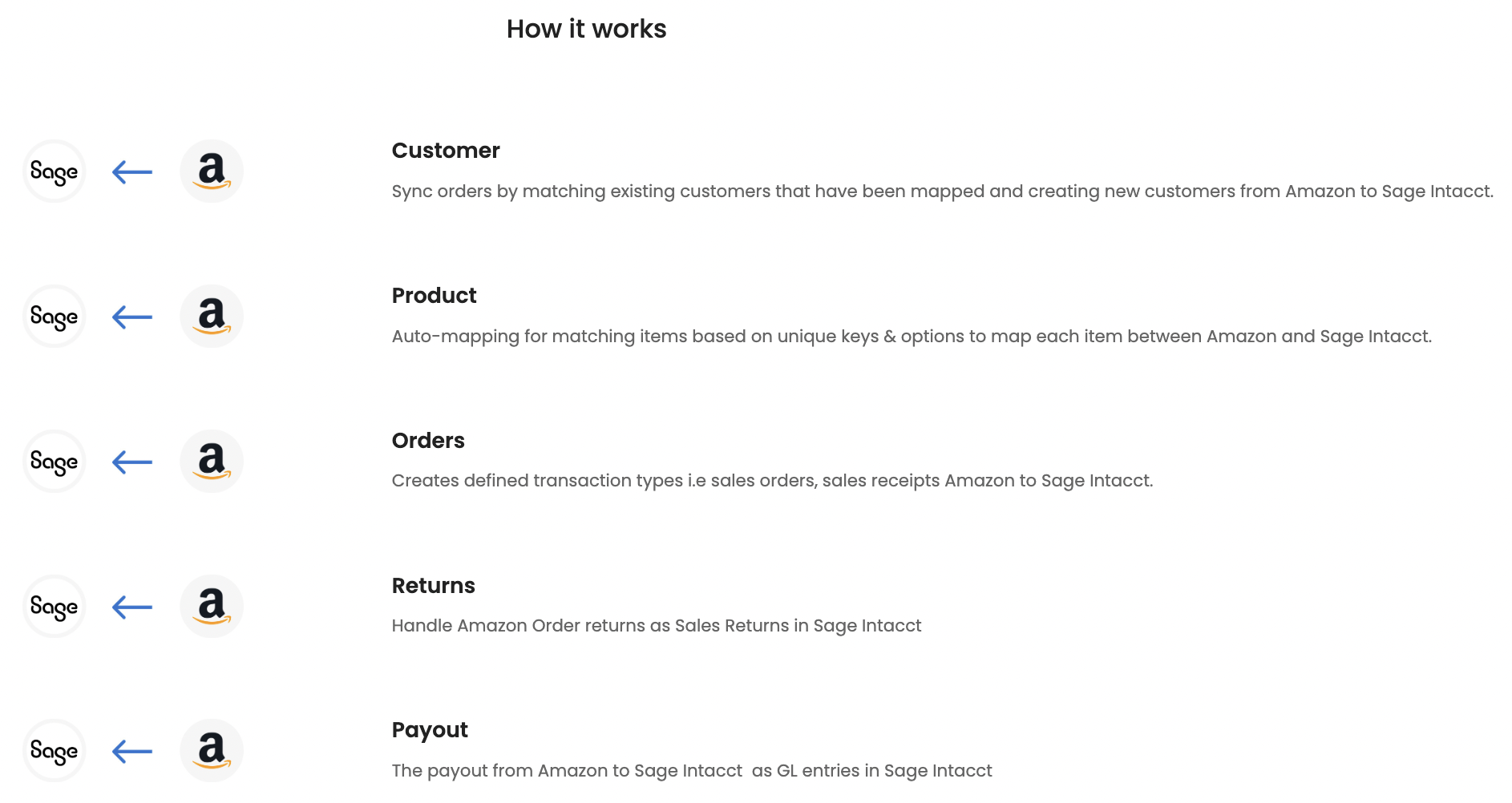 System Requirements:
To enable the integration, Sage Intacct users must purchase: Sage Intacct - Web Developer License.

Accounts at Fulfillment Provider
Price:
Monthly Subscription

Integration Approved Countries:
United Kingdom; United States;


About:
By streamlining and managing complex inter-company integration flows, we save our customers time and money, allowing them to scale their businesses faster and more effectively. Our founders have over 30 years of experience in complex integration challenges. Our integrations have been developed in the real-world by working with dozens of Sage Intacct users and connect securely via APIs to Sage Intacct and other systems providing seamless flow of data between systems. We support and manage our solutions as a cloud-based subscription service. This allows us to provide our best customer experience. 

Our solutions typically fall into the following major categories:
eCommerce Platforms (Shopify, BigCommerce, WooCommerce)
Fulfillment Platforms (3Pls, WMS, Shipping services, etc.)
Marketplaces (Amazon, eBay, Walmart, etc.)
Point of Sales Solutions (Square POS, Lightspeed, etc.)
Business Networks (EDI, SPS Commerce, Coupa, etc.)

A Constantly Expanding and Improving Connector Library
We maintain a library of connections which we constantly add to, update and evolve based on our continuous and never ending improvement processes (CANI). The connectors are constantly improving and evolving based on the changing features of our integrated partners API capabilities. 
Phone:
‭(214) 717-5900
Website:
https://apiworx.com/
Year Founded:
2013