Kantata takes professional services automation to a new level, giving people-powered businesses the clarity, control, and confidence they need to optimize resource planning and elevate operational performance. Our purpose-built cloud software is helping over 2,500 professional services organizations in more than 100 countries focus and optimize their most important asset: their people.

By leveraging Kantata OX, Kantata's open infrastructure solution, professionals gain access to the information and tools they need to win more business, ensure the right people are always available at the right time, and delight clients with project delivery and outcomes.
Key Benefits:
Kantata OX (Formerly Mavenlink) seamlessly integrates with Sage Intacct, making it possible for organizations to automatically sync project information between the two applications. Manage projects in Kantata OX and perform accounting functions in Intacct without having to import/export or manually enter data twice. By integrating Kantata OX and Sage Intacct, businesses are able to:
Improve accuracy of revenue forecasts
Learn which projects can accelerate revenue
Save time on manual data entry 
Improved communication between project delivery teams, accounting, and clients
Supply accounting with visibility into when projects are created
Allow delivery teams to see when invoices are paid
Learn more about integrating Kantata OX and Sage Intacct
here
.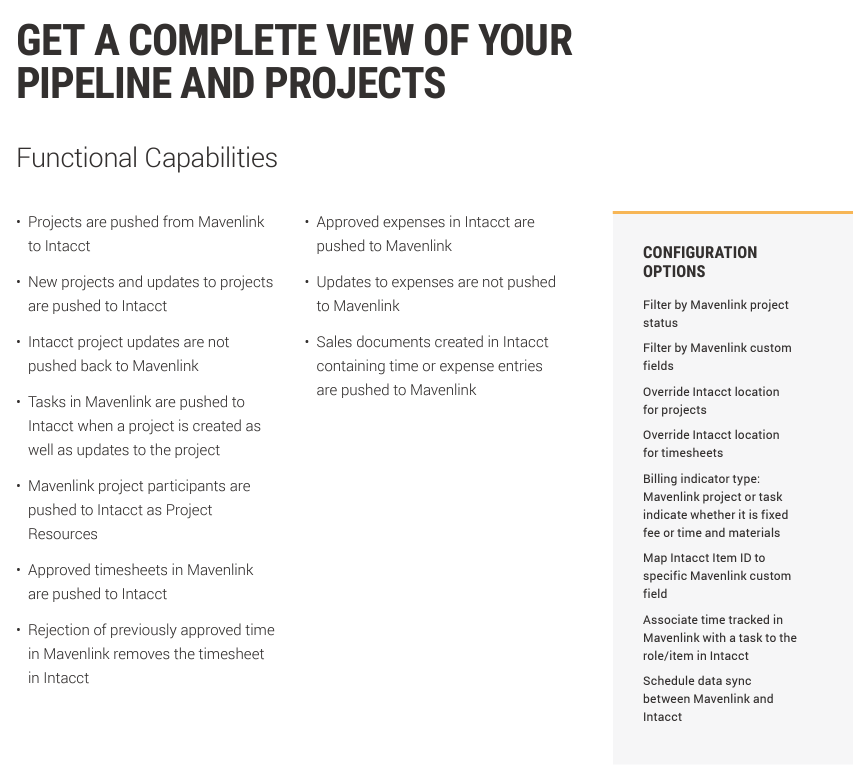 System Requirements:
To enable the integration, Sage Intacct users are NOT required to purchase: Sage Intacct Web Services - Developer License;

Sage Intacct Projects
Price:
Subscription starting at 30K per year + Implementation Fee

Integration Approved Countries:
United Kingdom; United States;


About:
Mavenlink & Kimble have joined forces to become Kantata

The Kantata Cloud for Professional Services™ is a powerful collection of resource management, financial management, project management, team collaboration, business intelligence, integration, and workflow automation functionality that optimizes resources and elevates operational performance.

In a world of fragmented software offerings, Kantata brings today's professional services organization a comprehensive solution with best-fit flexibility built-in. This is software tailored for the unique needs of all of your teams, to meet the unique needs of your business. Whether you want to operate on the Salesforce platform or are looking for open infrastructure, you have choices with Kantata.     

The Kantata Cloud for Professional Services leapfrogs traditional PSA solutions to boost productivity, optimize resource usage, and better support your talent network. Kantata believes in choice and invests in products that will future-proof your business and help you to unleash the power of your most valuable assets: your people.

The Kantata Difference:
Cloud-based and easily scalable
Built on deep industry expertise 
A unified, end-to-end approach designed for your essential functional needs
Supported by the largest specialist provider of technology for professional services organizations
Integrates with your existing technology investments for immediate advantage
Proven paths to transformational value for businesses like yours
With Kantata, you are able to:
Field the Best Team Every Time
With Kantata, you can make the most of every resource—across all projects, and at scale. Match staffing demand to skills and availability in an instant. Maximize margins with powerful planning and real-time adaptability.
See the Full Picture
Confident decision-making starts with up-to-the-minute visibility. Get a complete view of your business at your fingertips—look forward, drill down, or adjust in-flight. Contextual insights let you manage timelines, budgets, and clients more effectively. 
Transform Outcomes
Kantata gives you everything you need to make every job successful and profitable. It's your command center for quote-to-cash capabilities.  Resource planning, project management, accounting, collaboration, and business intelligence are aligned with the services delivery lifecycle. With easy-to-use tools integrated with existing systems.
Work Your Way
The Kantata Cloud has flexibility built-in. Whether you are looking for a Salesforce-based solution or open-infrastructure products, we'll find the right fit for your needs. With Kantata, you get the broadest set of capabilities and integrations available. 
Phone:
Website:
https://www.kantata.com/
Year Founded:
2008