Enhance the automation features available through Sage Intacct with Bellwether! Because of our tight integration with Sage Intacct, all data is shared across both platforms in real-time to give you the most complete view on your company spend.

Use Bellwether Purchasing Software in conjunction with Sage Intacct to automate the entire requisition and procurement process, along with punchouts, inventory, asset, and contract management. Move projects forward, enhance communications, gain real-time visibility and control, and deliver strong ROI across your entire organization.
Key Benefits: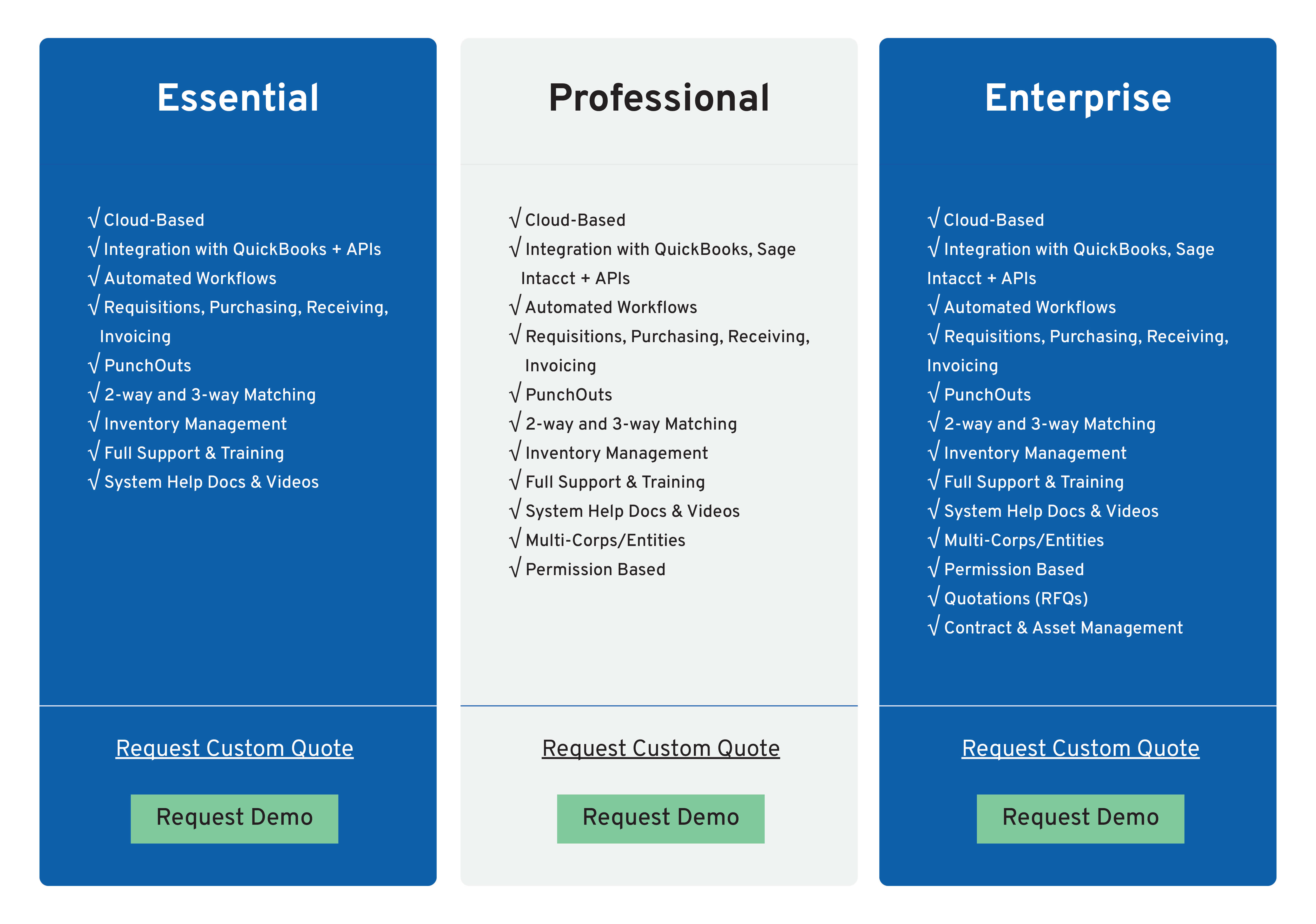 Sage Intacct + Bellwether for Procure to Pay and Inventory: 
Use Bellwether in conjunction with Sage Intacct to:
Create purchase order request for all your employees, then utilize the approval and budget tracking workflows in Bellwether
Create multilevel and GL approval workflows using Bellwether 
Enable your automated invoice processing in Sage Intacct by utilizing Bellwethers 2-way / 3-way matching tools 
Quickly and easily pass AP Vendor, GL Accounts, Class, Project, Warehouse, and Department data from Intacct into Bellwether
Leverage your Sage Intacct receiving features through Bellwether's industry leading Receiving Module
Provide PO status and invoice and payment approval statuses to your vendors
Have complete control over vendor contacts and assign communications to them by transaction type 
Enter, manage, and edit your Requisition, POs, RFQ's, and invoices prior to transmitting to Sage Intacct for payment
Track Inventory, Assets, and Contracts in Bellwether to match with invoices paid through Intacct 
Request for Quote
Obtain the best deal and turnaround time. Submit & manage requests for quotes to multiple vendors. Compare quotes based on delivery date/price.

Vendor Contract Management & Robust Vendor Portal
Gain visibility and control over all your contracts in one convenient location. Enforce vendor-negotiated terms and provide blanket purchase orders

Inventory Management 
Gain full visibility and control costs with a tightly integrated inventory-to-requisition system. Order, Fulfill, or Transfer stock held at any location. 

Asset Management Capabilities 
An up-to-date overview of asset status including maintenance and warranty, history and location with full historic and revalued cost depreciation.

PunchOut Capabilities
Significantly reduce the time it takes to place purchase orders with your vendors and take advantage of an "Amazon-like" shopping experience.

Catalogs Capabilities
Enhance user shopping experience and control costs, using your own catalog, pictures, extended descriptions, and company selected items.

Pricing
Customized based on the number of users and modules
System Requirements:
Sage Intacct Web Services
Price:
Custom Pricing based on Users & Modules

Integration Approved Countries:
United States;


About:
1. Bellwether is not just our company name, but also the inspiration behind our industry leadership.
As an industry leader since 1985, Bellwether has focused on its partnerships with its clients and vendors. While many procurement solution providers have come and gone, Bellwether has remained a staple in the industry by working as a partner with its users to develop powerful, easy-to-use solutions that work intuitively– as purchasing managers expect. With Bellwether Purchasing Software, you know you are selecting a time-tested partner that understands your needs now and in the future.

2. Bellwether Purchasing Software is designed with your growth and changing needs in mind.
Bellwether's web-based (Cloud) purchasing software solution offers significant flexibility and customization for your specific needs. Whether you require multiple languages, custom fields, or simply the ability to access your application off site, Bellwether Purchasing Software is an ideal solution for companies that have their own particular needs. The powerful web-based e-procurement solution can run on various operating systems and handheld devices. If you have a browser and an internet connection, you can run Bellwether Purchasing Software. Bellwether's web-based design removes the risk by ensuring that your solution will run on your system today, as well as in your environment in the future.

3. You can implement Bellwether Purchasing Software quickly and be up-and-running the solution in minutes.
Bellwether Purchasing Software defines ease-of-use. A 5-10 minute demonstration of the application is the only thing your implementation team may need to be fully functional. Furthermore, Bellwether's experienced staff is there to provide assistance when you when need it, with dedicated support available on demand. Complementing the design and Bellwether's live support are the dynamic and integrated smart help files. Wherever you are in the system, whether you are an occasional requisitioner or a high-level purchasing executive, the help files guide you through the steps for completing your task quickly.

4. Bellwether is committed to growth and development.
Bellwether removes the risk of selecting a partner who is content with the status quo, by maintaining a large full-time development staff. We are committed to on-going development, so you can feel confident that Bellwether will continue to meet your needs not only now, but also in the future.

5. Bellwether Purchasing Software pays for itself quickly and easily.
Bellwether helps remove the risk in selecting a purchasing software solution by quickly helping you realize your investment. Designed for power and ease-of-use, with affordable, flexible pricing, Bellwether Purchasing Software: offers excellent reasons to consider joining the ever-growing community of users. However, the most compelling reason to choose Bellwether Purchasing Software is the time to ROI. By implementing spend controls and budgeting, enforcing the use of preferred vendors, and eliminating maverick spending, our clients are able to realize instant results.
Phone:
(502) 426-5463 X 106
Website:
https://www.bellwethercorp.com
Year Founded:
1985