Straightsell's prebuilt Sage Intacct software eCommerce integration, facilitated by our CloudLINK application, automates data transfer to and from Straightsell eCommerce websites and Sage Intacct.
Order Taking Made Easy!
Eliminate the time spent on manually taking and entering orders into Sage Intacct. Straightsell's CloudLINK will transfer all orders and credit card payments placed on your new Straightsell eCommerce website and add them to Sage Intacct automatically… Easy!
 
Streamline Catalogue and Customer Maintenance
Reduce the time spent maintaining your website product catalogue, customer information and invoices. Data added and updated into Sage Intacct is simply imported into your new Straightsell eCommerce website, and is available for your customers, online, 24 x 7... Easy!
 
7 Point Sage Intacct Integration
We have an easy to setup, off the shelf, 7 point eCommerce integration with Sage Intacct!
Imported from Sage Intacct software to the website:
Inventory Item Details and Stock Levels,
Customers and Customer Details,
Customer Special Pricing, and
Customer Invoices.
Exported from website into Sage Intacct software:
Sales Orders or Invoices,
Payments on Sales Orders and Customer Invoices, and
New Customer and Customer Details.
Extend with add-ons or custom development
We offer an ever growing number of eCommerce website add-ons that can extend the functionality of the website or the Sage Intacct integration. Hit our website for a published listing of ecommerce Add-ons, or review the snapshot of popular Add-ons in the image below. If you do not see an Add-on you are looking for published on our website, just ask us! We build custom website and integration functionality features to support customers specific business requirements.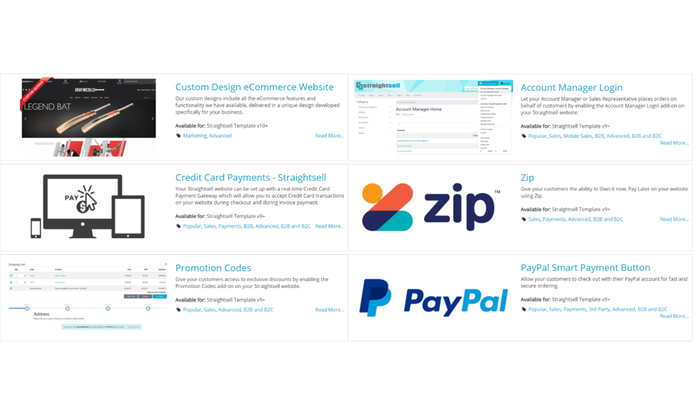 Only available in Australia