The shared inbox designed for Sage Intacct Customers, Sage Inbox creates an online workspace so there's one place for the accounting team to work together, manage shared activities, and directly connect with customers and vendors. Sage Inbox automatically organizes emails and documents by subject and issue for specific vendors, customers, and transactions. This vastly improves efficiency in terms of managing that existing workflow, while integrating directly with Sage Intacct. More importantly, Sage Inbox allows for communications to be automatically composed and addressed saving massive amounts of time in working with customer and vendors. Self Service provides customers with immediate access to make payments, reconcile their statements, download important documents, export accounting data, and make payments.
Key Benefits:

Sage Inbox connects your email and Sage Intacct, allowing you to prioritize customer and vendor communications, automate reminders, and visualize key accounting metrics.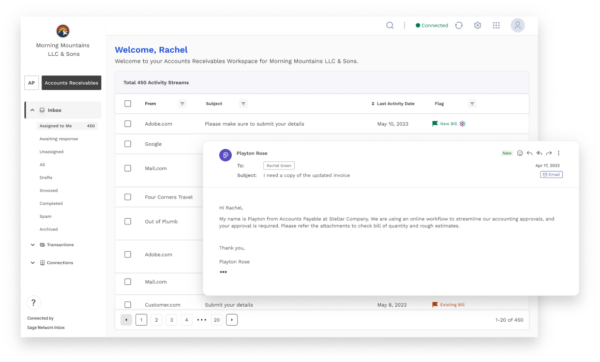 Increase Productivity by 20%
More than email, spreadsheets, and document management – Explore the power of an inbox that connects your email with Sage Intacct. 
 
Improved Efficiency and Enhanced Visibility. 

Self Service makes it faster and easier to work with your customer and vendors, giving customers and vendors access to invoices, financial records, and to make payments online.

Intuitive Workflow. 

Ensure nothing falls through the cracks with powerful, zero-admin workflow that tracks your open, follow-up, and scheduled activities.

Email Templates. 

Save time by communicating with vendors and customers in one click with email templates that auto-fill based on your accounting data.   

Customer and Vendor History.

Respond quickly with a searchable history of all AR and AP communications, contacts, documents, and transactions.

Shared Team Workspace 

Maximize your team's impact with assignments that divvy up the work.
System Requirements:
To enable the integration, Sage Intacct users are NOT required to purchase: Sage Intacct Web Services - Developer License
Price:
Free

Integration Approved Countries:
United States;


About:
Lockstep is now Sage! 

The acquisition of Lockstep accelerates Sage's strategy for growth by broadening its value proposition for SMBs and by expanding Sage's digital network. Sage Network connects the world's accounting teams to help them work better together. The pioneer in Connected Accounting, Sage develops tools and platforms for fintech developers and accounting teams to automate workflows between the accounting systems that are at the heart of all businesses. For developers, Sage Network API is the easy, modern platform for building fintech applications that work with their customers' accounting systems. For accounting teams, Sage Network's applications automate accounts receivable and accounts payable workflows improving efficiency and cash flow.
Phone:
(866) 903-1430
Website:
http://www.lockstep.io
Year Founded:
2019